How to become a scuba diver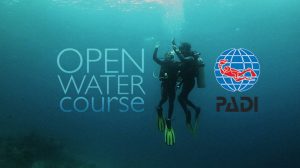 Becoming a scuba diver is a wonderful adventure! To become a diver, you need to get a certification such as the PADI Open water. This certification includes three phases:
1. Knowledge Development
During the first phase of your scuba lessons, you'll learn the basic principles of scuba diving such as
What to consider when planning dives.
How to choose the right scuba gear for you.
Underwater signals and other diving procedures.
You'll learn this valuable information by reading it in the PADI Open Water Diver Manual or by using the online version with PADI eLearning®. At the end of each chapter, you'll answer questions about the material to ensure you understand it. At the end of the course, you'll take a final exam that ensures you have thorough knowledge of scuba diving basics.
You'll also watch videos that preview the scuba skills you'll practice in a swimming pool or pool-like environment.
2. Confined Water Dives
This is what it's all about – diving. You'll develop basic scuba skills in a pool or in confined water – a body of water with pool-like conditions, such as off a calm beach. The basic scuba skills you learn during your certification course will help you become familiar with your scuba gear and become an underwater explorer. Some of the essential skills you learn include:
Setting up your scuba gear.
How to get water out of your mask.
Entering and exiting the water.
Buoyancy control.
Basic underwater navigation.
Safety procedures.
You'll practice these skills with an instructor until you're comfortable. When you're ready, it's time for your underwater adventure to begin at an open water dive site.
3. Open Water Dives
After your confined water dives, you'll head to "open water," where you and your instructor will make four dives, usually over two days. On these dives you'll get to explore the underwater world. You'll apply the skills you learned in confined water while enjoying what the local environment has to offer. Most student divers complete these dives close to home, but there is an option for finishing your training while on holiday. Your PADI Instructor can explain how you can be referred to another PADI Instructor in a different location.